Experience and expertise matter
With Family First, employees and their families have access to an Expert Care Team comprised of nurses, social workers, mental health professionals and Harvard-trained physicians. All are licensed and accredited with years of specialized training and real-world experience solving complex caregiving challenges.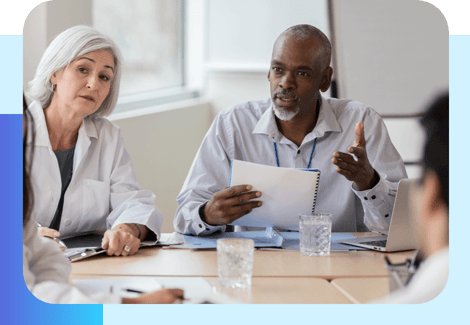 Solutions, not referrals
Far more than referrals or logistical help, our Care Teams provide ongoing support — often interacting with multiple family members for months on end — to resolve caregiving challenges and ensure plans are adjusted to changing circumstances and new challenges that may arise.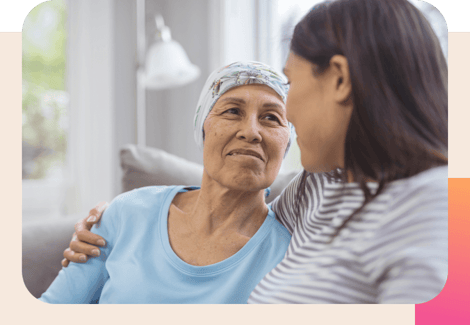 Built on innovative technology
Backed by our AI-powered Expert Caregiving Platform (ECP), our Care Teams gather and synthesize clinical data and social determinants of health to identify gaps in care and correct care paths for employees and their loved ones 76% of the time.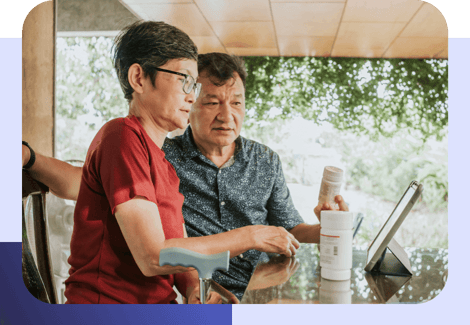 Results that speak for themselves
Family First combines 30 years of hands-on experience, a multi-disciplinary team of experts, and an artificial intelligence engine that analyzes data from millions of people to ensure your employees have the caregiving solutions they need.
87
Member Net Promoter Score (NPS)
91
Client Net Promoter Score (NPS)
2.3:1
Return on Investment
Family First's global caregiving solutions make an impact
Global solutions, no matter where your employees call home
Support employees' emotional, mental and financial wellbeing
Increase productivity, lower absenteeism
Recruit & retain top talent
Support DE&I and keep women in the workforce
Improve culture and the return to work
What our customers are saying
My Care Expert was a godsend and kept me sane at a time when I was questioning whether I'd be able to continue working or have to take an unpaid leave of absence from work, which would have been a huge financial burden. The fact that the service is provided for free by my employer made it easier to stay working and let Family First set me on the right path with so many resources and support.
Lynn J.
Employee
My Care Expert came into my life at the right moment. We were at a new juncture in our daughter's mental health journey, and she provided terrific guidance and completed a lot of background work (phone calls, documentation, recommendations). I was able to focus on work and other critical items related to our daughter.
Donna R.
Policyholder
My brother was handling my mom's return home after a recent hospitalization. He was overwhelmed and stressed out. Family First was able to assess my mom's needs, put support in place, and help my brother with his anxiety. Such a blessing!
Kate B.
Employee
Great job listening to my needs and finding resources for my specific situation, not just generic checklists. My Care Expert was great, quick to respond and gave detailed help with my request for information and resources.
Samantha J.
Employee
A high-touch solution-oriented approach that helps caregivers determine the best plan with accredited professionals by their side.
Kevin Host
Executive Director, Wellspring EAP
I always thought the term "caregiver" only applied if you got paid. Family First opened my eyes to the fact that I'm a caregiver, too. Their help on my caregiving journey has been invaluable.
Emiko C.
Employee
I would have had to fly to California to oversee my mom's care coordination without Family First. They helped coordinate home care and follow-up appointments with her doctors.
Jeff P.
Employee
I'm not sure I would've done anything without Family First. I was paralyzed, overwhelmed and had no clue where to begin. This is an amazing service and I'm very appreciative of all the work my Care Expert did for me. She was an amazing help and blessing to me.
Barry S.
Policyholder
My mom's condition changed on a daily basis, so it was difficult to nail down our needs. My Care Expert was extremely knowledgeable and helpful in explaining various options for my mom's care. Researching on our own would have been extremely time consuming.
David B.
Employee
I think the main benefit was having someone with experience in healthcare issues to go to for questions and guidance. We definitely would've been more stressed and confused if we didn't have our Expert's help.
Emily W.
Employee
My Care Expert was awesome to work with. She was a very good listener and turned our conversations into actions we could take to provide the best care possible for my mother. Thank you!
Chris L.
Policyholder
Exceptional caring and guidance for both myself and my 83-year-old mother. Our Care Expert was caring, helpful, and a pleasure to work with. She also encouraged me to get done what was needed for my mother, so I could take better care of myself.
Carly N.
Employee
Extremely resourceful and willing to go the extra mile to support you anyway they can. My Care Expert was excellent to work with. She is extremely knowledgeable, resourceful, and is very diligent about addressing all your concerns and finding the right resources for your needs.
Denise O.
Employee