Our Team provides the expert guidance needed by employees and their families.
Eldercare
Child & Adolescent Wellbeing
Counseling & Mental Health
Legal & Financial Challenges
Insurance & Medicare Navigation
Social Determinants of Health
Family Dynamics & Resolution
Expert Homecare & Placement
Access to an Expert Care Team
Teams include Harvard-trained physicians, nurses, social workers, and mental health professionals.
Anytime, Anywhere
Anytime tech tools connect employees across the globe to their Care Team and care plan.
Innovative Technology
Our Expert Caregiving Platform and mobile app use 30 years of caregiving data to optimize care planning and ensure everyone involved is on the same page.
Holistic Approach
Caregiving solutions that address mental health, family dynamics, financial challenges, home care needs, and offers guidance around difficult decision-making.
With Family First's mobile app, caregivers and their loved ones have direct access to their Care Expert and care plan, so help is never far away.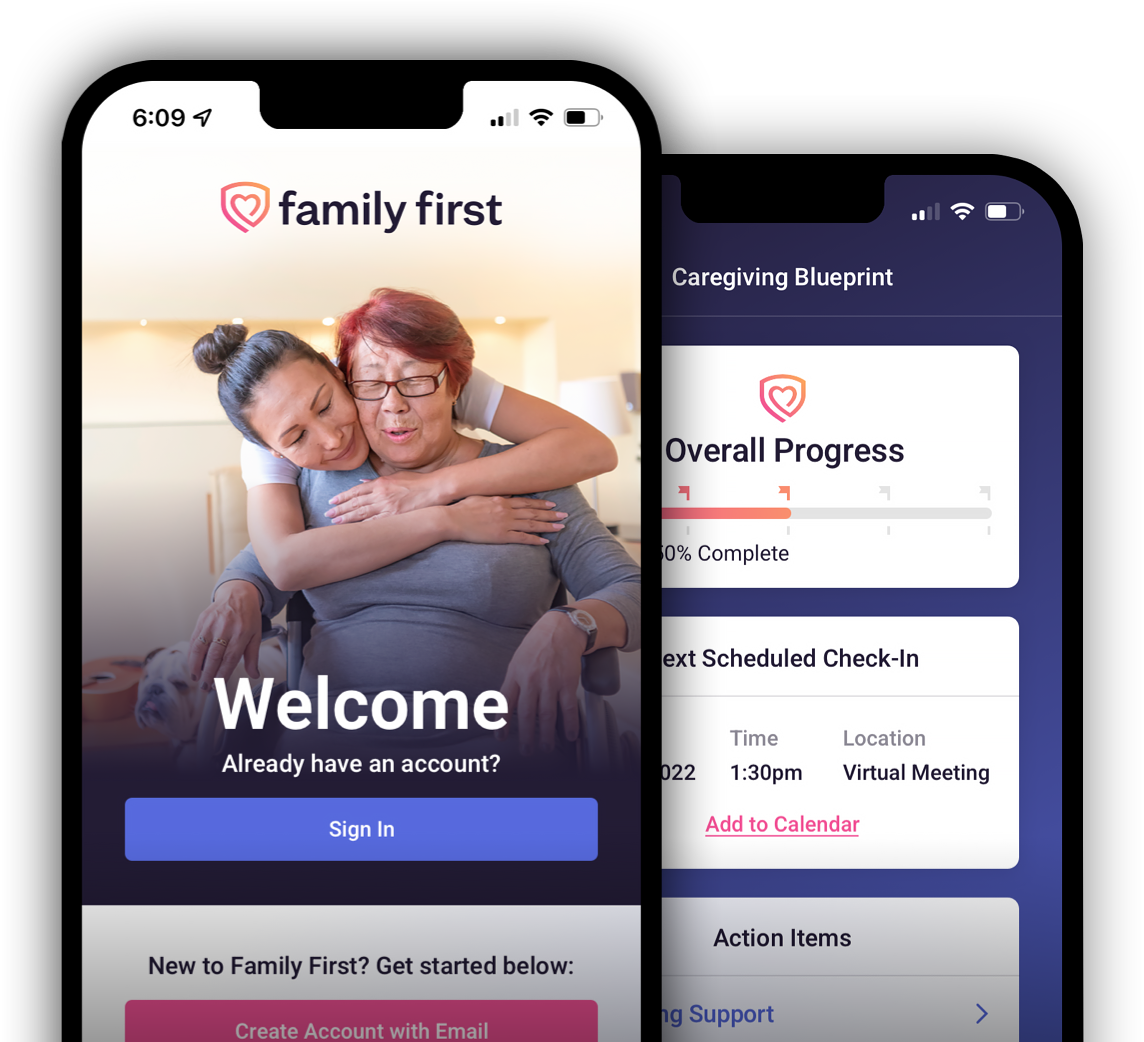 Rhea's Situation
Rhea is considering leaving her job to take care of her mom, Natalie who is having memory issues. Rhea has Family First through her employer and calls to initiate a case.
Intervention
Rhea's Expert Care Team investigates Natalie's condition — including her living environment and emotional health — and requests medical records. Rhea's wellbeing as a caregiver is also assessed.
Solution
Data and observations are integrated in our Expert Caregiving Platform (ECP), which flags that Natalie may be experiencing an adverse drug interaction. Rhea's Care Team discovers this to be the case and recommends a plan of care to the family. Rhea joins virtual 'care conferences' with her Care Team and mother to track progress. Rhea herself is recommended a plan of care to cope with caregiver burnout and is able to remain in the workforce.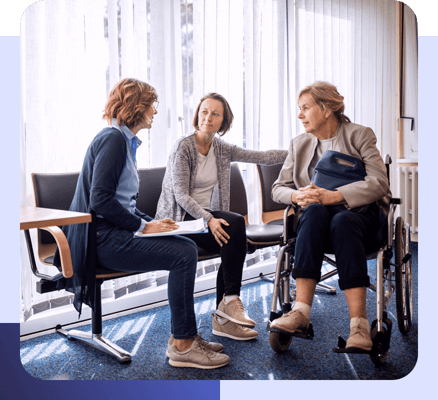 Sean's Situation
Sean's wife passed away unexpectedly, sending his 26-year-old schizophrenic son Jalen into a tailspin. He became non-compliant with his treatment. Sean could no longer care for his son and work, and so contacted Family First.
Intervention
After a psycho-social evaluation and ongoing support, Jalen allows a nurse to visit his home, administer his monthly medication, and accompany him to various appointments. Over time, Jalen saw his physician, dentist, eye-doctor, and dermatologist.
Solution
Family First continues to be involved with Jalen weekly, and his situation remains stable. Not only is Sean able to work full-time, but he is able to travels and care for his own mental health.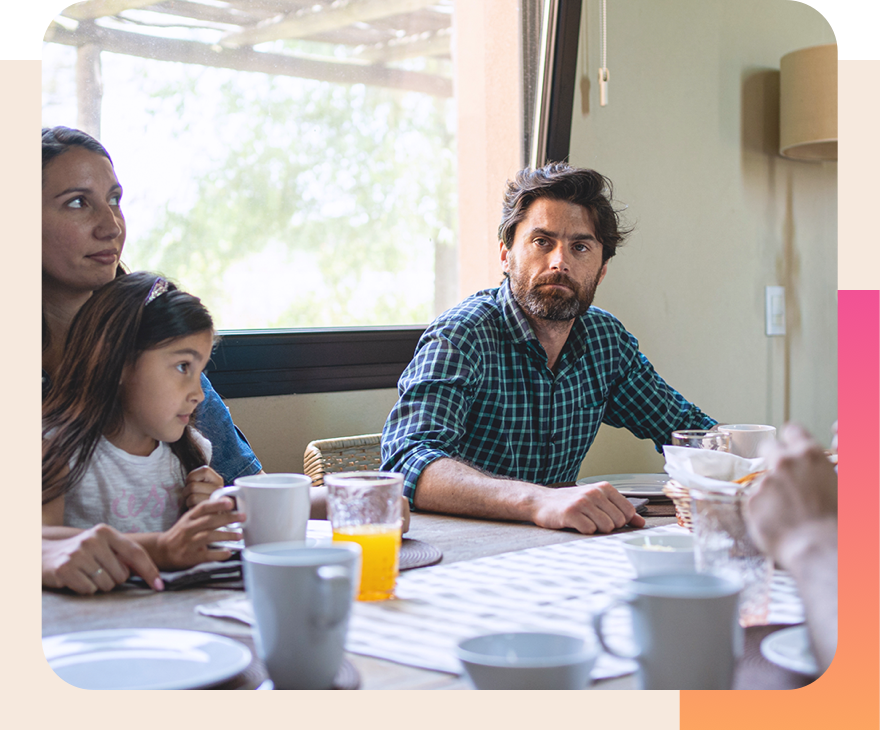 Emiko's Situation
Emiko's mother had moved in with her during the pandemic. During that time her dementia worsened and she began reverting to her native language – Japanese. As Emiko prepared to return to the office, she worried about leaving her mom alone. After tirelessly searching for a caregiver that spoke Japanese, Emiko turned to Family First.
Intervention
A diligent investigation finally led Emiko's Care Expert to several contacts willing to relay Emiko's request to their connections in the local Japanese community. Through this unconventional channel, a Japanese agency offering home care was found.
Solution
The Care Expert prepared the family for an interview by uncovering what skills and values mattered most to them. Before long, a perfect match was found. The family is thrilled to have benefitted from the creativity and persistence of their Care Expert.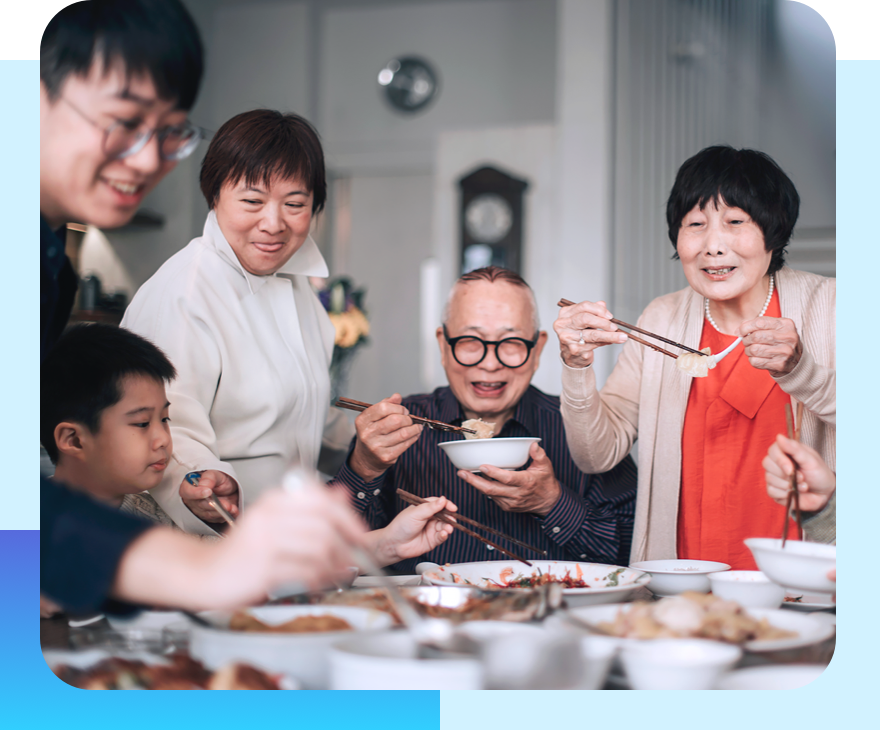 Michael's Situation
Michael's father was recovering from hip surgery in a rehab facility. His father insisted he was fine, but he was often disoriented, was refusing food, and his prescribed therapy.
Intervention
Michael's Care Expert — a licensed care manager and former hospice administrator — immediately, and sadly, recognized signs the father was in the process of passing. After consulting with Family First's Medical Director, Michael and his family were educated on signs of end-of-life, how to uncover and honor a loved one's wishes, and finally, the benefits of hospice.
Solution
The following day, the family requested a hospice consult. Within 24 hours the father passed away pain-free and surrounded by family. Michael and his family continue to work with their Care Expert. Community resources, a home safety assessment and remote monitoring technology was installed to keep their widowed mother at home, as is her wish. The whole family has been in grief counseling and thanks to their Care Expert, has a shared purpose and plan for their mother's care.