Our Team provides the expert guidance needed by employees and their families.
Eldercare
Child & Adolescent Wellbeing
Counseling & Mental Health
Legal & Financial Challenges
Insurance & Medicare Navigation
Social Determinants of Health
Family Dynamics & Resolution
Expert Homecare & Placement
Access to an Expert Care Team
Teams include Harvard-trained physicians, nurses, social workers, and mental health professionals.
Cloud-based Care Portal
Facilitating communication and collaboration between employees, family members, and their Care Team.
Innovative Technology
A platform built on 30 years of caregiving data to optimize care planning and ensure your employee or their loved ones are on the correct care path.
Comprehensive Approach
Caregiving solutions that address mental health, family dynamics, financial challenges, home care needs, and offers guidance around difficult decision-making.
Rhea's Situation
Rhea is considering leaving her job to take care of her mom, Natalie who is having memory issues. Rhea has Family First through her employer and calls to initiate a case.
Intervention
Rhea's Expert Care Team investigates Natalie's condition — including her living environment and emotional health — and requests medical records. Rhea's wellbeing as a caregiver is also assessed.
Solution
Data and observations are integrated in our Expert Caregiving Platform (ECP), which flags that Natalie may be experiencing an adverse drug interaction. Rhea's Care Team discovers this to be the case and recommends a plan of care to the family. Rhea joins virtual 'care conferences' with her Care Team and mother to track progress. Rhea herself is recommended a plan of care to cope with caregiver burnout and is able to remain in the workforce.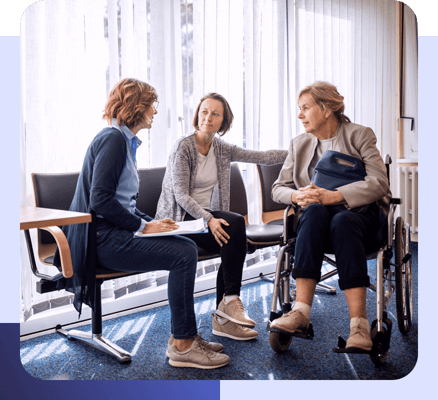 Sean's Situation
Sean's wife passed away unexpectedly, sending his 26-year-old schizophrenic son Jalen into a tailspin. He became non-compliant with his treatment. Sean could no longer care for his son and work, and so contacted Family First.
Intervention
After a psycho-social evaluation and ongoing support, Jalen allows a nurse to visit his home, administer his monthly medication, and accompany him to various appointments. Over time, Jalen saw his physician, dentist, eye-doctor, and dermatologist.
Solution
Family First continues to be involved with Jalen weekly, and his situation remains stable. Not only is Sean able to work full-time, but he is able to travels and care for his own mental health.