Supporting Neurodiversity Caregivers

Neurodiversity caregivers often need additional support, behavioral health resources, and access to clinical expertise. Family First supports these caregivers with comprehensive solutions and decades of experience working with neurodiverse cases.



The workplace underwent significant change throughout 2022, affecting not just the places and hours that individuals worked but also the benefits packages employees requested from their employers.

The most important lesson learned by employers during 2022 was that investing more in benefits that improved employees' lives could prevent them from quitting their jobs and leaving the organization. The Great Resignation has shown more conventional strategies like promotions and salary increases have less impact on retention. A better benefits plan would encourage 73% of employees to stay with their current firm longer, according to a 2022 MetLife survey.
Caregiving benefits in particular matter because around 73% of the workforce have some form of caregiving responsibility. Many employees believe that employers can do more to support caregivers.
Companies can do this by acknowledging the variety of caregiving neurodiversity issues employees face. For example, with family-focused benefits, employers can support the parents of neurodiverse children. Caregivers for adults or elderly relatives may be dealing with neurodiverse behaviors. The most well-known neurodiversity issues for adults include ADHD with symptoms such as difficulty controlling or maintaining attention, hyperactivity, impulsivity, forgetfulness, and challenges with processing information. Programs like those created by Family First provide access to expert medical professionals with first-hand experience in thousands of similar clinical cases that can help establish a framework of support. The result is a reduction in caregiver stress, and better employee performance at work with longer-term loyalty too.
Caring for a Loved One with Neurodiverse Issues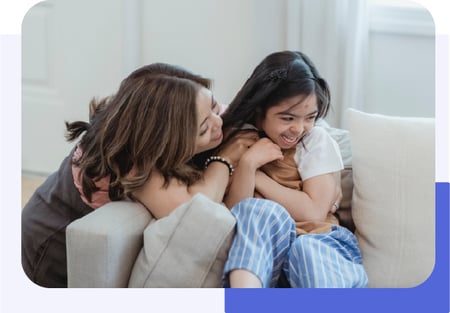 Employees who care for a family member with neurodiverse issues need additional support, behavioral health resources, and access to clinical expertise.

It starts by giving more attention to employees caregiving for those with neurodiverse conditions, such as the parents of neurodiverse children.
According to an article published by the American Psychological Association, parents caring for neurodiverse children and struggling to juggle work can have a lower threshold for stress because of the higher ongoing demands of parenting.
Approximately 1 in 6 children are born with some type of developmental challenge, including ADHD and Autism. Parents caring for children with developmental challenges are at higher risk for poor mental and physical health. If these groups are already experiencing prolonged chronic stressors, they are at higher risk for vulnerability to mental health issues and burnout.
A BMJ study first published in 2019 found strong evidence that parents of children who have a developmental disability experience higher odds of depression or other mental health diagnoses compared with parents of children who do not. The BMJ study concluded that parents of children who have a developmental disability often require programs and services that support their mental health.

Looking at the other end of the age scale, caring for an adult at home with ADHD is fairly common for employees. As the Medium article Impulsivity: It's A Neurodivergent Thing explains, the impulsive behavior that often accompanies ADHD can be very stressful for caregivers. Too much stress is harmful to both the caregiver and the care recipient.

The mental health challenges caregivers commonly face when caring for neurodiverse family members include:
Anxiety
Depression
Stress
Financial stress
Burnout
These conditions can impact the caregiver's capacity to provide the required level of support for the care recipient. Providing families with access to clinical expertise helps employees manage their stress, feel better equipped to carry on at work, and provide better care for their loved ones.


MetLife

Leads

Trend

Toward

All

-

Encompassing

Caregiver

Benefits
According to a 2022 survey conducted by research non-profit Integrated Benefits Institute, 27 percent of respondents added EAP (Employee Assistance Programme) or behavioral health options. 20 percent added some form of caregiver leave. These stats show the increasing need for caregiving support from the workplace.
American corporation MetLife understands the growing need for more comprehensive caregiver benefits. As one of the leading organizations in the country with 43,000 employees and millions of customers, the company has a scale that means most types of neurodiversity and caregiving situations are represented.
During 2022 MetLife recognized this growing need for support and partnered with Family First to bring expanded caregiving benefits to employees. As a result, MetLife Legal Plans now provide comprehensive support for employees navigating the challenges of caring for a loved one. Through this partnership, members of the MetLife Legal Plans and their families have access to Resource Libraries, Professionally Accredited Nurses, Medical Professionals, Social Workers, and Mental Health Professionals on Expert Care Teams.
Speaking to Employee Benefit News Magazine (EBN), Loi Stoddard-Graham, vice president of product and business development at MetLife Legal Plans, says:
"When you think about caregiving, whether it's our children or our parents or cousins and aunts and uncles, the need is there. Expanding caregiving benefits with Family First was just a natural expansion for us. We want to make sure that we're covering members for everything they need at this point."
Stoddard-Graham also believes employers who care for their employees' work-life balance will become a long-term movement and not just a short term trend, with anyone working at a top company seeking these kinds of benefits.
It is easy to see why.
Benefits for caregivers can directly affect an employee's career in addition to providing for their personal needs. Employees will spend less time researching and providing care during work hours if caregiving benefits are standard service. Caregiving support will also reduce employee stress, increase productivity and boost talent retention.