Make an impact for National Caregiving Month

November is National Family Caregivers Month (NFC), a time to celebrate the 78 million people who dedicate their time to caring for a family member in need.

A Presidential Proclamation in 1997 from Bill Clinton signaled the start of this annual celebration. Every year since then, November has been dedicated to family caregivers. The event started as a week-long way to honor those who care for family members, later changing to a monthly event to celebrate the invaluable contributions caregivers continue to make for their families.

Each year, the Caregiver Action Network chooses a theme for NFC. Themes during previous years included Caregiving Around the Clock, #BeCareCurious, and Caregiving in Crisis. The theme for 2022 is #CaregivingHappens. The 2022 campaign captures the fact caregiving frequently happens at unexpected times. Care issues pop up while you are out shopping. An elderly relative might need you when you are away attending a conference. Or a sick family member might need care when you are trying to leave for work in the morning.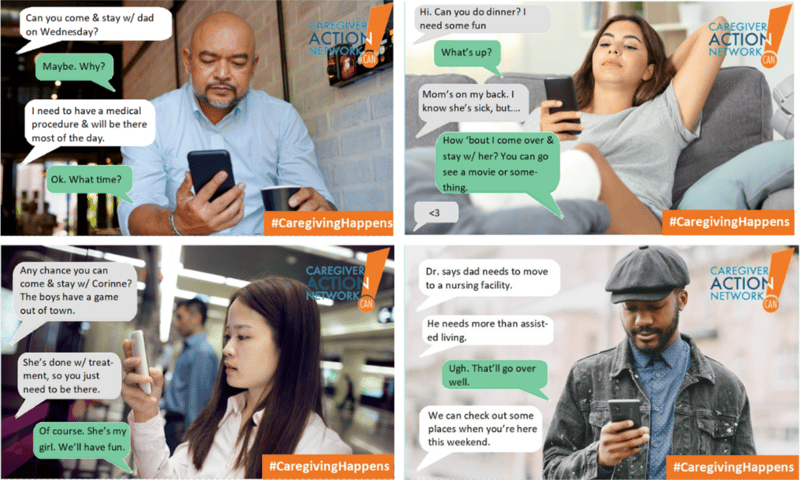 Image from CaregivingAction.org
Communities frequently celebrate Caregiving Month by holding events. Cake and coffee as a thank you might sound simple, but they can mean the world to caregivers. Other ideas to support NFC include sending a thank you card, sharing a post on social media, or buying a gift such as a book, pampering treatment, food, or flowers to help caregivers enjoy their downtime.
The Challenge for Employers and Medicare Providers
National Family Caregivers Month is a perfect time to reflect on how your organization supports employees with caregiving responsibilities.
We should express our gratitude for those who work persistently to offer care, whether it be financial, medical, domestic, or emotional support. Supporting caregivers is even more vital as we approach the holiday season when the emphasis is on family and quality time. Caregivers deserve this time to relax too.
Caregivers offer support to those who need it most, but it can have a toll on them physically and emotionally. Employers and medicare providers face the complex challenge of supporting caregivers and their families before they reach burnout. Employers should work to identify caregivers who are struggling before their position at work is impacted and provide early support. Research shows that many caregivers struggle to balance work and caregiving responsibilities without support from an employer. A study by Carers UK reveals that 2.6 million have quit their job to care for a loved one who is older, disabled, or seriously ill, with nearly half a million (468,000) leaving work in the last two years alone.
Talent and knowledge are leaving the workforce, impacting growth and innovation. Cost implications arise from work absences related to caregiving stress and result in higher medicare bills to treat caregiver mental disorders. The escalation of stress and anxiety to the point where the caregiver has to leave work could be avoided altogether if identified and treated earlier.
It's in everyone's best interests to provide solutions that support working caregivers to promote happy and healthier individuals and a vibrant workforce contributing to a strong business and overall economy.
Family First: mHealth solution combined with clinical expertise
Built on an expert caregiving platform, Family First is driven by advanced technology to support virtual care sessions, medication and medical records reviews, as well as data intelligence—all of which help us provide the best outcomes for your employees. Family First's mTech solutions and clinical expertise provide the holistic caregiving support employees need.
Family First is the only Caregiving platform to provide a Caregiving Risk Index (CRI) using AI and data from millions of care cases to predict when an employee needs intervention support for their caregiving situation. This responsive solution treats cases that if left unresolved, can lead to avoidable crises, with employees leaving work, suffering from stress, and submitting higher medical claims.