Caregiving for a Loved One With Cancer

Statistics from the NHS say that 1 in 2 people will develop some form of cancer in their lifetime, and according to BreastCancer.org, 1 in 8 women will develop breast cancer at some point in their lives. Cancer is the second biggest killer in America, only behind heart disease. Cancer claims are one the leading costs for employer healthcare and caregiving programs.
A cancer diagnosis affects the patient and their significant others, especially when caregiving tasks are involved. Some caregivers perceive caregiving as bringing them joy but also a burden, while others consider it a challenge that changes their relationship with the care recipient.
Caregivers helping a loved one through cancer may find it harder to work, perform to their usual standards, and manage tasks at home and in the office.
In this article, we will look at the challenges caregivers face while looking after a loved one with a cancer diagnosis and ways an employer can help employees who need support during a difficult time.
Caregiving Support During Cancer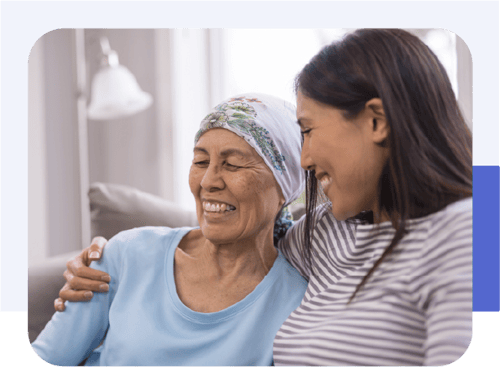 Caregiving for a loved one facing cancer treatment can be emotionally difficult and involve many logistical challenges. The caregiver must take time for self-care to avoid burnout.
It's common for the care recipient to require significant help:
Providing ongoing emotional support and reassurance
Helping with everyday tasks
Driving the patient to appointments for cancer treatments and checkups
Helping with medications and prescriptions
Looking after finances and paying bills
Talking to other people on their behalf, such as health and social care professionals
Helping with personal care
A cancer patient may be affected by treatments such as chemotherapy that could leave them without the energy to be able to manage everyday tasks on their own. Chemotherapy can impact the caregiver by causing upset as they see the appearance of their loved one change and their energy levels drop while creating more burden on them to provide care.
Caregivers can find support from numerous cancer charities. A few notable organizations offering support are:
CancerCare - CancerCare offers online and phone support groups for caregivers.
The American Cancer Society - The charity offers an interactive resource guide for caregivers, plus online communities and support services. Cancer patients receive support through one-on-one and support groups, with a free place to stay and transportation for those traveling out of state for treatment.
Memorial Sloan-Kettering Cancer Center - Founded in 1884, the Cancer Center includes both the treatment center and the research institute. It offers dedicated support for caregivers via online resources, plus a range of services, including a caregivers clinic, social work support, and virtual programs to help caregivers. It also runs a research program to learn about caregiver experiences looking after cancer patients.
The Family First employee caregiving program can provide access to counseling, help direct caregivers to local support groups and resources, establish caregiving plans and deliver white-glove clinically supported services. We help the caregiver and the cancer treatment recipient to ease the burden. The result is the employee avoids burnout and can manage their caregiving role and career.
Looking After Yourself While Caregiving
Many caregivers put their needs on hold to help the person with cancer. This level of dedication can be hard to maintain, and the stress can have psychological effects. Physical effects are common when caregivers neglect to look after themselves with healthy routines such as exercise and a balanced diet. The Family First webinar discusses the impact of caregiving on mental health.
Caregivers are used to taking care of others and can find it hard to focus on themselves, but taking the time to recharge can help you be a better caregiver in the long term.
Caregivers should try to take time every day to do something for themselves and should maintain some level of their personal life that includes their hobbies and interests. While you may need to cut back on activities to care for a loved one with cancer, studies show keeping a separate routine can help reduce how much stress caregivers feel. It is also a good idea for caregivers to ask for help - perhaps there are other family members able to take on a small role, such as grocery shopping, to give caregivers a break.
Managing Emotional Wellbeing
Caregiving for a loved one with cancer is an emotional thing to deal with. Expressing your emotions can help you feel better. There are several ways to do this, depending on which feels right for you.
Here are a few options to consider:
Talk: Studies show that talking with people about what you are dealing with is very important to most caregivers. You may want to chat with someone outside your circle or talk to someone you can open up to about your feelings or fears. Support groups are another good option to talk to others in the same situation caregiving for a family member with cancer. You can meet in person, by phone, or online.
Write: Keeping a journal and writing down your feelings can help relieve negative thoughts and may help improve your health.
Learn more: Understanding your loved one's medical condition can make you feel more confident and in control. It may help you to know what to expect during treatment, such as the tests and procedures or side effects.
Spend time together: Cancer can make people closer as they face challenges together. Sharing time with your loved one and doing things you enjoy can help you move toward the future with a positive outlook.
The Impact on Work for Cancer Caregivers
During the study Employment Implications of Informal Cancer Caregiving, cancer survivors who reported that they had a caregiver were asked:
Because of your cancer, its treatment, or the lasting effects of that treatment, did any of your caregivers ever take extended paid time off from work, unpaid time off, or change their hours, duties, or employment status?
Of survivors who had a caregiver, 25% reported that their caregiver made extended employment changes defined as:
1) Modified schedule, workload, and job responsibilities,
2) Took time off,
3) Lost opportunities (e.g., quit, delayed looking for work, refused promotion), or
4) Other.
In a separate study titled: Work Productivity and Health of Informal Caregivers of Persons With Advanced Cancer, the researchers found that the mean work productivity loss due to caregiving was 22.9%. Higher work productivity loss was associated with the number of caregiving hours, higher cancer stage, marital status, and increased anxiety, depression, and burden related to financial problems, disrupted schedules, and health.
The research above indicates that providing informal caregiving for a loved one with cancer can harm career progression, increase the risk of absenteeism, and reduce productivity at work.
The data shows the importance of open communication between the employer and employee about the caregiving situation to ensure the caregiver has the support they need to perform at work, take career opportunities, and produce a high level of work for the business.
Employers can help by providing specialist support through an employee caregiving benefit program, such as the one offered by Family First.
Our article, AI, Data and Clinical Expertise can Predict and Prevent Caregiver Burnout, discusses how intervention before things spiral out of control can have positive results for the individual and the organization.
Other Considerations When Caregiving for a Loved One With Cancer
Changing Family Dynamics
Cancer affects people of all ages. A diagnosis can change the established roles of individuals in the family. This change can be difficult to manage alongside everything else. Caregiving may be new to you, and how you support or interact with your loved one may change. It is important to remember you will learn more about caregiving as you help your loved one.
It is common for parents with cancer to find it hard to accept help from adult children, particularly if they have children of their own to look after, as they do not want to feel like a burden. When the roles and dynamics change, it is common to feel confused or upset. Everyone involved should take time to share their feelings and seek specialist support from a support group or counselor if needed.
Long-Distance Caregiving
Sometimes close family members live out of state or even abroad. It can make it very difficult to feel you are supporting a loved one with cancer when you are physically apart. It's still possible for those living far away to give caregiving support, organize care, and be problem-solvers for their loved ones with cancer.
Develop a relationship with the care team, such as a nurse or social worker. It may help you feel more at ease to have direct contact with someone involved in the medical care of your loved one.